Collection:

Canadian Solar Panels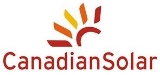 Canadian Solar Inc. is one of the leading solar manufacturers in the world, delivering industry leading high efficiency solar cells, solar modules, solar power systems and off grid solar power application solutions.  Canadian Solar has been installed in over 70 countries, From far and wide, Canadian Solar stands for QUALITY, RELIABILITY and VALUE.
Canadian Solar's cell and module technology guarantees world class stability and reliability and is backed by a 25 year performance warranty. All regular modules are manufactured to the strictest engineering guidelines, ensuring that each meets the international standards of quality and safety.
Request a quote
Receive A 26% Federal Tax Credit - Act Now!
Solar Calculator
How much do solar panels cost? Use our easy solar panel calculator to get a quick estimate of how many solar panels you'll need for your home.
Size My Solar System
Free Solar Roof Layout
Our engineers use state-of-the-art software to conduct a PV analysis and draft a free layout of solar on your roof, included with our complimentary quote.
Get My Free Layout
Get Started
With Solar
We'll help you figure out your solar needs!
Fill out the form for a complimentary solar panel quote that includes a custom solar panel layout using satellite technology and a breakdown of solar energy production, federal tax credit and energy offset.