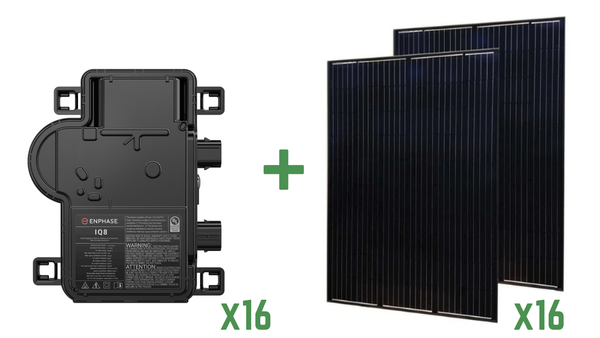 What's in this 5 kW DIY Solar Panel Kit?
Bring solar power to your property with GoGreenSolar's easy DIY solar panel kits! This 5 kW solar power system contains the core components you need to go solar, including:
(16) SunSpark 330-watt solar panels
(16) Enphase IQ8 microinverters
Ironridge XR racking system
Free system monitoring
This kit features Enphase IQ8 microinverters, which offer greater shade tolerance and more flexible system design options. Unlike string inverter systems, the IQ8s allow you to install panels at different orientations without impacting system performance. You can also build a system as large or small as you like, and easily expand your solar capacity down the road without needing to modify your existing system.
Is a DIY Solar Kit Right For Me?
GoGreenSolar's DIY solar kits empower you to install your own solar system, and our team of solar experts is on hand to guide you through the process. Once you're ready to go solar, we can provide a free solar panel analysis for your property, size a custom system kit to suit your needs, and offer optional permitting and interconnection services to help you navigate the approvals process.
Rather leave the installation to a professional? Sourcing a solar kit from GoGreenSolar and hiring a local contractor to install it can still save about 25% vs. hiring a national solar installer to manage your project. (See our overview of solar panel installation costs.)
Kit Components
(16) SunSpark 330W Solar Panels
SunSpark is an American solar manufacturer based in Riverside, CA ‒ just up the road from GoGreenSolar's headquarters.
SunSpark's 330-watt 60-cell panels come in a smaller form factor than 72/144-cell panels. The smaller size makes these panels easier to lift on to the roof and mount. Though the panels are smaller in form, they are just as efficient as their larger counterparts, which can be a huge help if you need to fit as much solar as possible into limited roof space. That means SunSpark's 60-cell panel kits allow for the most flexibility in terms of system sizing and layout options.
If you're looking for high-quality American-made panels, this SunSpark solar panel kit could be right for you. This kit contains (16) 330W panels, which will generate a total of 5,280 watts or 5.28 kW of continuous power. (If you have different energy needs, our design team is happy to size a custom kit for you!)
Panel details:
Assembled in America
UL Listed
All-black design
Monocrystalline cells
19.05% efficiency rating
5400 Pa snow load & 2400 Pa wind load capacity
(16) Enphase IQ8 Microinverters
This kit features (16) Enphase IQ8 microinverters, which offer some of the most advanced solar technology available on the market. Microinverter systems are more shade-tolerant, meaning they will produce more power than a string inverter system if a panel is partially shaded.
The IQ8s also allow for more flexible system design. Because there's no central string inverter unit, each panel + IQ8 pairing acts like its own self-contained solar power system. The modular nature of this system means you can install panels facing in any direction, without worrying about string sizing limitations.
It also means that IQ8 systems can be as large or small as you want. If you decide to expand your system later, it's as easy as buying more panels + IQ8s and wiring them into your IQ Combiner box.
The shade tolerance, design flexibility, and ease of expansion offered by microinverters make these the most powerful and robust solar kits that we offer.
Ironridge Racking
This kit includes sturdy Ironridge racking materials to mount your solar panels on your roof or a foundational ground mount structure. Contains enough racking materials to mount the 16 solar panels included in this kit.
Ground mount systems require the construction of a metal substructure to support the weight of the solar array. The metal pipe/tube, concrete and other materials needed to build this structure are not included in this kit; be sure to budget for these extra costs. As part of our permitting package, GoGreenSolar provides a full shopping list of materials which will need to be sourced from your local hardware store.
Add-on Option: Module Level Rapid Shutdown
For roof mount systems, the National Electric Code requires a rapid shutdown system to be installed for each individual panel in your array. Rapid shutdown allows the system to be completely de-energized at the flip of a switch.
Should a fire occur on your property, firefighters use the rapid shutdown switch to flush any live electrical current from the system, so they are not at risk of electrocution from the solar array when they are working on your roof.
While system-level rapid shutdown has been the standard in the past, many building authorities are moving toward requiring rapid shutdown modules for each individual panel on your roof.
Rapid shutdown is not required for ground mount systems, therefore it is not included in the cost of this kit. If you need to add rapid shutdown to your system, call us at (866) 798-4435 or request a custom quote online.
Choose DIY Solar Installation
Did you know? You can install a solar panel system with some help within a weekend or a few depending on your trade skills. Not up to DIY? Hire one of your trusted contractors to install for you.
GoGreenSolar solar panel kits include a complimentary roof layout, installation support and permit approval guarantees so you don't have to figure it out all on your own.
If you're handy with tools, love learning new skills, or enjoy managing and completing projects, DIY solar installation could be ideal for you. Many DIYers take satisfaction in the process and are proud of the results!
Save thousands of dollars

Going DIY can save you $10,000 or more, depending on system size. Tax credits still apply for equipment, hardware and any other installation services you utilize.

Have more control over your solar project

You get to make decisions on equipment selection, location of solar panels and timeline for your installation.

End-to-end support with a money-back guarantee

GoGreenSolar is with you every step of the way during your installation. We're also the only DIY solar company with a money-back guarantee. If your permit isn't approved even after following our instructions we'll provide a full refund*.
*Some exclusions applied. DETAILS
Interested in this solar panel kit for your home or business?
Contact us for a free estimate, and we'll provide custom recommendations that are personalized for your energy needs.
Solar made easy with complete solar kits

Step by step installation support