Ground Mount Solar Panel Kits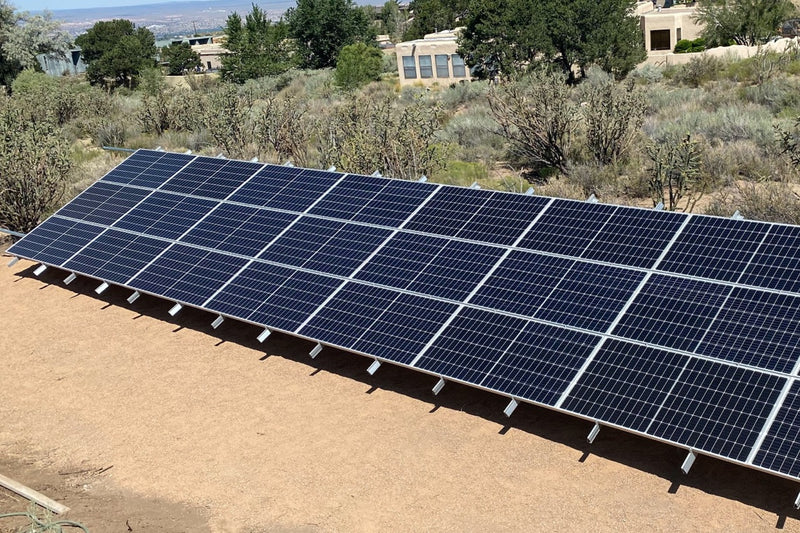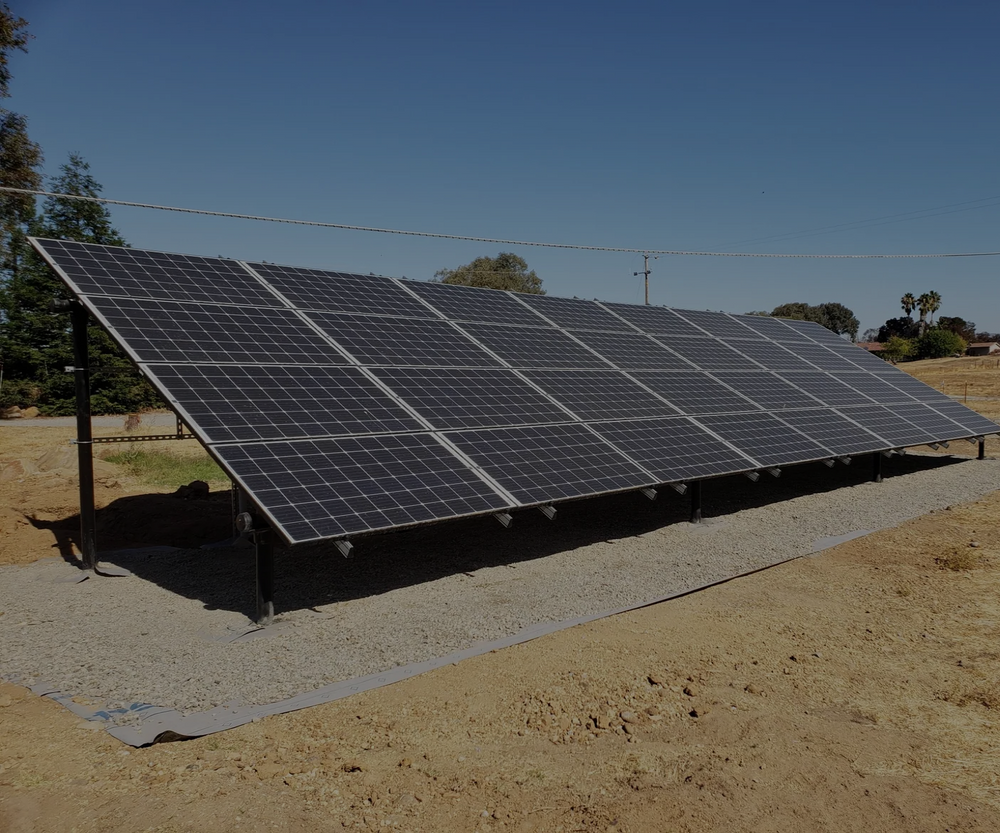 Solar Calculator
Use our easy solar panel calculator to get a quick estimate of how many solar panels you'll need for your home.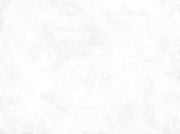 Why Choose GoGreenSolar for Ground-Mount Solar?
Ground Mount Expertise

Not all solar companies offer ground-mount systems. GoGreenSolar has decades of experience planning, designing and installing ground-mount solar.

Complimentary Assessment

We go the extra mile for our customers, using USGS remote surveying technology to assess your site conditions and determine if ground-mount solar is a fit.

Custom Design & Analysis

Our solar drafters can draw up the exact configurations of your solar system. We use satellite technology to design your property's solar panel layout.

Step-By-Step Installation Support

We're here to help you install your system with confidence. We provide custom installation instructions, and our DIY experts are just a phone call or email away.

Permitting & Technical Support

Ground-mount solar systems undergo complex permitting processes. GoGreenSolar will guide you from design, approvals with your city, utility and installation so you can pass all inspections and turn your system on.

100% Money-Back Guarantee*

We're the only solar company to offer a money-back guarantee. If your permit isn't approved even after following the proper steps, we'll provide a full refund of your purchase.

*Some exclusions applied. See Details
What's in a Ground-Mount Solar Kit?
Tier-1 Solar Panels

All our kits include solar panels from reputable top-tier manufacturers.

Grid-Tie Inverters

We carry a wide selection of the latest microinverters, hybrid inverters, and string inverters.

System Monitoring

We carry a wide selection of the latest microinverters, hybrid inverters, and string inverters.
Ironridge Ground-Mount Racking System
We've partnered with IronRidge, the leading supplier of solar structural hardware, to bring you the best racking solutions for your ground-mount solar kit. Enjoy the highest quality racking from one of the most trusted brands in the industry.
Rugged Construction

Engineered steel and aluminum components by IronRidge ensure durability.

25-Year Limited Warranty

Products are guaranteed to be free of impairing defects by IronRidge.

Easy Installation

DIY-friendly with simple installation — no welding required.

Professional Engineer Certified

Pre-engineered ground mount systems saves you time and money during the approval and installation process vs. building your own racking system.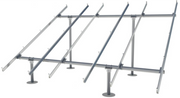 Ground Mount Solar 101
We answer your common questions about ground-mounted solar panels. Learn more about whether a ground-mount solar system is right for you.
What Are the Pros and Cons of Ground-Mount Solar Panels?

Pros:

Ground-mounted solar panels give you more bang for your buck. Build your panels in the best location (depending on available land) and orient them to maximize your system's energy production.
Ground-mount systems are ideal for snowy areas or some hillside properties.
Access and maintenance are easier with ground-mount solar. You won't need a ladder or safety harness to clean off snow, dirt or debris from your panels.

Cons:

Ground-mount systems are more expensive than roof-mount systems. You're building a brand new structure (instead of using a roof as your foundation), which requires more materials and labor.
Because ground-mount arrays are considered "new" construction, the permitting and approval process is much more complex.
Ground-mount solar may take up a lot of space — at least 300 to 1,200 square feet or more depending on system size — so it's not ideal for everyone.
Am I a Good Candidate for Ground-Mount Solar?

You'll need to meet several criteria before you get the green light to install ground-mount solar. Aside from having enough space, ideal site conditions are also necessary for ground-mount solar installations.

Do you have enough land for the system size you need?
Is your roof structurally sound? Can it bear the weight of a solar panel system?
Is your roof ideal for the placement of solar panels?
Do you live in a snowy or windy climate?
Do you envision regularly cleaning clean snow, dirt, dust or debris from your panels?
Do you live on a hillside? Is your property on a slope?
What type of soil do you have on your property? Is there any bedrock?
What Is the Ground-Mount Solar Installation Process like?

Before you commit, we want to ensure you're a good candidate for ground-mount solar. First, our solar pros will analyze your site and soil conditions, using USGS remote surveying technology to assess your land. It's a complimentary service we exclusively offer!

We'll help you determine hole location, hole depth, and how many poles you'll need. These requirements differ for every project. While it takes time to figure out the criteria, it's critical for moving forward.

After finalizing the structure and design, you need to obtain a permit from your local authority. This requires you to submit a solar plan set (typically stamped by a professional engineer) for review and approval. GoGreenSolar offers a Solar Design & Permit Service to help you through this complex step from start to finish.

Once you receive your permit, you can begin the installation. Start with the foundation and racking, mount your panels, and connect the panels to the inverter(s). Your GoGreenSolar DIY kit has custom installation instructions tailored to your kit's exact components. As a GoGreenSolar customer, you'll have access to our knowledge base and our customer support team via email and phone.

After we submit your inspection record to your utility, you'll receive permission to turn on your system. GoGreenSolar offers an interconnection service to help you with this last piece.
What Is the Ground-Mount Solar Permitting Process like?

A permit is required for installing a ground-mount solar system. To obtain your permit, you must submit a site plan, system design, electrical wiring diagram, spec sheets and certification documents for the components in your system. Ground-mount systems require additional approval of soil conditions and load-handling capabilities to ensure there are no liabilities with the foundation.

We strongly recommend adding our Solar Design & Permit Service to your kit purchase; we'll help you manage paperwork and guide you through the entire process.
What Components Are Included with an Ironridge Ground Mount System?

The IronRidge ground mount system includes:

XR1000 Rails, which are the strongest in the industry featuring unique spanning capabilities that support up to 5 modules per column in landscape orientation
Cast aluminum Top Caps and Rail Connectors
Schedule 40 Pipe (sold separately)

All components for the rail assembly are available in clear finishes, and clamps are available in a range of sizes to match all common solar panel frames.
What Are the Tech Specs?

| | |
| --- | --- |
| Module Tilt Range: | 0 to 45 degrees |
| E-W Pier Spacing: | Up to 17' |
| N-S Pier Spacing: | 7' 6" |
| Max Wind Speed: | 150 Mph |
| Module Orientation: | Landscape/Portrait |
| Wind Exposure: | Category B, C & D |
| Maximum Snow Load: | 60 psf |
| Materials: | Aluminum |
| | Cast Steel ASTM A216 |
| | A53 GR B (SCHED 40) |
| | Stainless Steel Fasteners |
| Warranty: | 20 Yr Mfg, 10 Yr Structural |
| Locally Sourced Pipe: | Yes. Must be Schedule 40. See Engineering Guide for details. |
| Additional Bracing: | Yes |
| Adjusts to Elevation Change: | Yes |
| T-Bolts: | Yes |
| Wire Clips: | Yes |
| End Caps: | Yes |
| All Metal Construction: | Yes |
| Engineering Support: | Yes (P.E. Certified) |
What Type of Pipe and Tubing Do I Need?

Type: Choose between steel pipe or mechanical tubing for your IronRidge ground mount system.

Mechanical tubing is made from higher-quality steel, and as a result, the walls of the tube are thinner, making it lighter and easier to work with.

Size: If you decide to use steel pipe, you can choose between 2" or 3" pipe.

2" pipe is ideal for smaller systems of 30 to 36 panels or less, and is easier to cut and handle. 3" pipe is best for larger systems of more than 36 panels, doesn't require as much pipe or concrete, and can be spaced further apart.

See more below on how to choose between 2" or 3" pipe.

Price: 3" pipe costs more, making it less popular among customers. Since 3" pipe is harder to install and better for larger systems, we generally recommend 2" pipe for most cases.

During the system design and sales consultation process, our experts can provide guidance on choosing the best pipe for your needs.
How Do I Choose between 2" and 3" Pipe?

2" Schedule 40 steel pipe is best for smaller arrays (like residential applications) as it is lightweight and easy to handle. Most GoGreenSolar customers choose 2" pipe for their projects.

3" Schedule 40 steel pipe is useful for larger arrays, where the longer E-W span helps reduce the number of concrete foundations. However, 3" Schedule 40 steel pipe is also heavier and sometimes requires heavy machinery for installation.

Before purchasing your pipes, confirm the specifications with the Ground Mount Engineering Design Guide.
How Far Can I Span the Pipe?

With multiple pipe and mechanical tubing size options available, you can optimize your pipe and installation costs.

The 2" pipe with optional cross-bracing has the greatest spans in most cases, greatly reducing the number of piers and materials needed.

One of the most critical engineering variables is your array size. For example, using five solar panel high columns in landscape significantly increases the number of modules per pier compared to four solar panel high columns, which helps you save on pipe or mechanical tubing and concrete.

Concrete foundations allow for the largest possible pipe spans and highest lateral force bearing, which reduces the need for cross-bracing.
What Is the Ideal Tilt Angle for My Ground Mounted Solar?

A ground mount sits at a fixed position, so you should choose a tilt angle that maximizes production for your local conditions.

We typically recommend IronRidge's suggested tilt angle that maximizes year round production while keeping engineering and installation simple and cost-effective. Our solar plan drafters will draft the most ideal tilt for your custom solar project.

There are a few factors to consider regarding tilt angle:

Lower tilt angles are optimal during summer months, which is ideal for grid-tie customers.
If you live in a snowy climate, note that steeper tilt angles are better for shedding snow.
If you live a windy climate, note that lower tilt angles are more capable of handling high winds.
More Resources
Solar Calculator
How much do solar panels cost? Use our easy solar panel calculator to get a quick estimate of how many solar panels you'll need for your home.
Size My Solar System
Free Solar Roof Layout
Our engineers use state-of-the-art software to conduct a PV analysis and draft a free layout of solar on your roof, included with our complimentary quote.
Get My Free Layout
Get Started
With Solar
We'll help you figure out your solar needs!
Fill out the form for a complimentary solar panel quote that includes a custom solar panel layout using satellite technology and a breakdown of solar energy production, federal tax credit and energy offset.