Off-Grid Solar Kits
Deliver power to remote locations with our DIY off-grid solar kits.
These kits contain the components you need to install a fully self-sufficient off-grid solar system, including solar panels, an off-grid inverter, and mounting materials. We'll also customize your kit with a battery bank sized to meet your storage needs.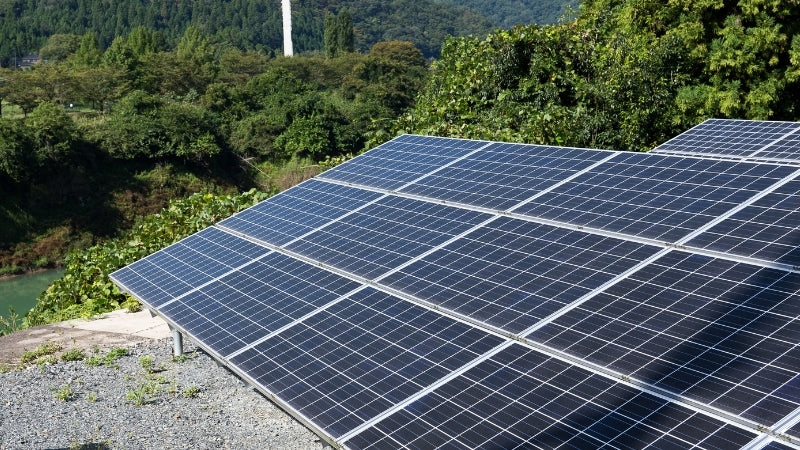 Off-Grid Solar System Faq
Learn more about our DIY off-grid solar kit solutions and how to choose the right system for your needs.
What Size off-Grid Solar Kit Do I Need?

Designing an off-grid solar system can be complex. There are three factors to consider when sizing for off-grid solar:

Your daily energy usage, which determines how many solar panels you need
Your nightly energy usage, which determines the size of your battery bank
Your peak power demand, which determines the sizing of your inverter

The most common off-grid system configurations range from 5kW to 21kW. However, energy usage varies for every household, so the best approach is to design a custom off-grid solar kit based on your specific energy usage patterns.

Reach out to our team of experienced off-grid solar designers who can provide a free design consultation and custom quote for your system.
What's in Our off-Grid Solar System Packages?

Your off-grid solar system is your home's primary power source, so it's important that your system is designed to handle full-time usage. Our DIY off-grid solar kits are designed to be safe, compatible with your energy needs, and easy to install.

Here's what's inside our off-grid solar kits:

Solar Panels

Solar panels convert sunlight into electricity. The size of your solar panel array determines how much energy you can use at your off-grid property each day.

Our off-grid solar kits come with high-efficiency solar panels backed by a 25-year performance warranty.

Off-Grid Inverter

An inverter converts DC power from your solar panels into AC power, the format used by most household appliances. Our string inverter kits include several solar panels wired into a central inverter unit.

Note that if you want to install a string inverter kit on your roof, you'll need to add Rapid Shutdown Modules at an additional cost to comply with the NEC (National Electrical Code).

Your inverter size is based on your peak power requirements, the amount of electrical loads you want to run at the same time. If you need to run several power-hungry appliances simultaneously, you'll need a larger inverter to cover your peak power demand.

If you need help determining your off-grid inverter size, contact us today.

Racking

Our off-grid solar kits come with IronRidge XR roof mount or ground mount racking materials. IronRidge racking materials are tested and proven to perform in extreme environments. Plus, their products are fully certified, code compliant and backed by a limited 20-year warranty.

IronRidge racking rails feature mounting holes that provide a quick and easy way to mount your solar panels. Their products are ideal DIY solar installations.

Our off-grid mount kits include roof mounts and flashings with a waterproof seal to secure your racking rails to the roof.

Ground mount kits require an additional metal support structure , not included with your off-grid kit. (Don't worry, we'll provide a shopping list with everything you need to complete the installation.)

Battery Bank

Batteries store the energy you produce during the day, so you can draw power from your battery bank to run appliances when the sun isn't shining. The size of your battery bank determines how much energy you need to use at night, or on overcast days where there's not much sunlight available. Many off-grid residents add a gas generator to their off-grid solar systems as a backup energy source in the event that there are several cloudy days.

Off-grid solar systems use deep-cycle batteries, deep-cycle Lithium Iron Phosphate Technology (LifeP04) batteries which are designed to be discharged and recharged gradually. These are sized to cover your energy usage for one night, then recharge from solar during the day, completing one charge and discharge cycle over a 24-hour period.

There are two different types of batteries used for off-grid solar systems: lead-acid and lithium batteries. Lead-acid batteries have a shorter lifespan (about 5 years) and require regular maintenance while lithium batteries have a longer lifespan (about 10 years) and don't require much maintenance. Today, nearly all off-grid customers today choose lithium batteries.
Building an off-Grid Solar System: More Resources

Here are some additional resources for designing and installing your off-grid solar system:
About GoGreenSolar

GoGreenSolar is run by experienced solar veterans, packaging solar kits since 2006. We're a local American-grown solar company based in Orange County, California, and our work has been featured on CBS, NBC, and USA Today.

We do more than ship you a box of parts. Our team provides expert support with installation, permitting, rebates, and interconnection. Everything we do is designed to make the process of going solar as quick, painless, and affordable as possible.

Our clients have saved thousands by ditching overpriced national installers and taking charge of their solar installation. Whether you hire a local installer or install your own solar panel kit, we're here to help you maximize your savings and make the process of going solar as painless as possible.
Solar Calculator
How much do solar panels cost? Use our easy solar panel calculator to get a quick estimate of how many solar panels you'll need for your home.
Size My Solar System
Free Solar Roof Layout
Our engineers use state-of-the-art software to conduct a PV analysis and draft a free layout of solar on your roof, included with our complimentary quote.
Get My Free Layout
Get Started
With Solar
We'll help you figure out your solar needs!
Fill out the form for a complimentary solar panel quote that includes a custom solar panel layout using satellite technology and a breakdown of solar energy production, federal tax credit and energy offset.