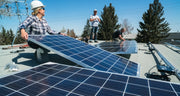 Choosing the Right Solar Panel Systems For Your Home
Great news: solar panel systems have advanced significantly over the years and are now more efficient and easier to install than ever!
With more homeowners and commercial property owners choosing to go solar, prices of solar power systems are dropping yearly and the technology is evolving rapidly. New products such as the Enphase Microinverter boast plug-and-play capabilities and simple, straightforward installation.
If you're considering a transition to solar energy, you probably have some questions on your mind. What do you need to know when shopping for solar power systems? What types of solar panel systems exist, and how do you choose the right one for your home? Let's dive in.
Types of Solar Panel Systems
What is a solar panel system?
Modern solar panel systems consist of four main components:
Solar panels, which convert sunlight into direct current (DC) electricity

A grid-tie inverter, which converts DC into AC (alternating current) — usable energy for your home

Mounting hardware for the roof or ground

A monitoring system that offers real-time insights into your solar power system's performance
Inverter choice should be one of the most significant factors weighing your decision. Inverter efficiency is more important than solar panel efficiency.
What types of grid-tie inverters are available?
There are three types of inverters for grid-tie solar power systems: string inverters and micro inverters. As you search for the right solar system for your home, it's essential to choose an inverter suitable for your needs and electricity usage.
String inverters have the lowest price point but the most limitations when it comes to their traditional, dated technology and factors like shading, expansion and system monitoring. String inverters can only be used for ground mounted solar panel systems and are not allowed on roof mounted systems. Additionally, string inverters have a single point of failure. If the string inverter goes out, your entire solar system also goes down.
Micro inverter solar panel systems are the number one choice among residential solar installations. Micro inverters are efficient, reasonably priced and easy to install, and provide a smooth, hassle-free experience — even for novice solar installers. As opposed to the string inverter options, micro inverter systems have no single point of failure. If one micro inverter goes down, the rest of the system operates at full capacity. If you're looking for the best solar power for your home, micro inverter systems are the way to go.
Micro Inverter Solar Power Systems
OK, so what is a micro inverter? And how does it work? A micro inverter converts DC electricity into AC electricity to power your home or facility. A micro inverter is installed behind each panel in a solar power system to create individual power-generating units.
Advantages of Micro Inverters
There are numerous benefits of using micro inverters for your solar panel system.
Expandable: Micro inverters allow for no-fuss future expansion. You can add on additional panels and micro inverters as needed.

Better for shading: If your home has some shade, you'll benefit from a micro inverter solar panel system. Since each panel has an inverter, each unit can operate at maximum efficiency.

Safe and reliable: Micro inverters are safe to use and have the lowest failure rate.

Extended warranty: Most micro inverters have 25-year warranties, so you can feel confident about your purchase.

Battery-ready: Need battery backup? It's easy to add on a battery with a micro inverter solar power system.

Easy to install: Micro inverter solar panel systems are incredibly easy to install! Forget complicated installation processes, and save yourself time and effort.
Enphase Micro Inverters
GoGreenSolar is proud to offer Enphase micro inverter solar panel systems, which offer some of the most powerful and advanced technology in the industry today.
Installing the Enphase micro inverter system is an easy three-step process. Simply bolt the Enphase micro inverter to your rail or racking, insert it into the Engage cable and connect it to your solar panel. Just plug and play!
Bolt

Simple, single-bolt mount to rail or racking.

Plug into Engage Cable

Micro inverter plugs directly into Engage Cable.

Connect to panel

Connect the DC leads directly to the micro inverter.
Enphase Micro Inverter Features:
High power output and efficiency (97%) — if one of your solar panels is shaded or damaged, the rest of your panels can continue to perform at maximum efficiency
Straightforward, hassle-free installation
Reliable and trusted inverter worldwide
Smart grid ready — complies with advanced grid support, voltage and frequency ride-through requirements. Envoy and Internet connection required. Configurable for varying grid profiles. Meets CA Rule 21 (UL 1741-SA)
Integrates with Enphase IQ Envoy™, Enphase Encharge Battery™ and the Enphase Enlighten™ monitoring and analysis software
25-year warranty
Start Building Your Solar Panel System
Ready to get started? First, determine what size solar power system you need for your home. Then, request an estimate and a roof or ground layout analysis.
Use our solar panel calculator

Refer to your electricity bills for the past 12 months to calculate your average kWh per month.

We built a handy tool to help you calculate how many solar panels you need.

Request a free layout and estimate

GoGreenSolar offers complimentary solar panel analysis and accurate price quotes. We use advanced satellite technology to create a custom layout for your roof or ground, and calculate all costs and savings for you!
Do-It-Yourself Micro Inverter Solar Panel Systems
Installing a micro inverter solar panel system is easier than you think! You can have solar power for your home within one or two weekends once your permits are approved.*
Save thousands of dollars when you DIY
GoGreenSolar's DIY micro inverter solar kits include everything you need* for a successful installation:
Solar panels
Enphase micro inverters
IronRidge racking and mounting system
System monitoring — free with any grid-tie solar kit purchase!
System design and financial analysis
*Installation timelines can vary based on the complexity of the installation and skill sets of the person installing it. Not included: wire, conduit, fittings, breakers, AC/DC disconnects (if required), junction boxes and a sub panel (if required). These items are available at any electrical supply or hardware store and will run around $300 to $500 total. Our technical support representative will provide a shopping list once your plans are complete. Plans, interconnection and additional services are not included with solar kit purchases but are available for an extra fee.
Why Choose DIY Solar Panel Systems?
Save thousands of dollars
Professional solar installation services can be pricey. Cut your costs in half by installing your solar power system yourself.

Have full control over your installation
Get your solar power system up and running ASAP, on your own time.

Help is just a phone call or email away
When you purchase your solar panel system from GoGreenSolar, you don't just get a box of parts. Our experts are ready to assist you through the entire process, including assembly, permitting and interconnection, so you can feel confident about installing solar like a pro.
GoGreenSolar is a trusted leader in solar! Your customer experience is our top priority, and it's our goal to make sure your installation goes as smoothly as possible.
Our solar experts are ready to answer any questions you have about micro inverters, solar panel kits, DIY solar installation or the solar federal tax credit.
Solar Calculator
How much do solar panels cost? Use our easy solar panel calculator to get a quick estimate of how many solar panels you'll need for your home.
Size My Solar System
Free Solar Roof Layout
Our engineers use state-of-the-art software to conduct a PV analysis and draft a free layout of solar on your roof, included with our complimentary quote.
Get My Free Layout
Get Started
With Solar
We'll help you figure out your solar needs!
Fill out the form for a complimentary solar panel quote that includes a custom solar panel layout using satellite technology and a breakdown of solar energy production, federal tax credit and energy offset.