Collection:

Roof Mount Solar Panel Kits

For most residential solar projects, rooftop solar panels are the way to go. Install solar panels on your roof to save on racking costs and conserve valuable space on your property.

Shop our selection of DIY roof mount solar panel kits for both grid-tied and off-grid properties.

Receive A 30% Federal Tax Credit - Act Now!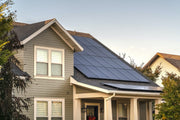 Solar Calculator
How much do solar panels cost? Use our easy solar panel calculator to get a quick estimate of how many solar panels you'll need for your home.
Size My Solar System
Free Solar Roof Layout
Our engineers use state-of-the-art software to conduct a PV analysis and draft a free layout of solar on your roof, included with our complimentary quote.
Get My Free Layout
Get Started
With Solar
We'll help you figure out your solar needs!
Fill out the form for a complimentary solar panel quote that includes a custom solar panel layout using satellite technology and a breakdown of solar energy production, federal tax credit and energy offset.