Solar Panels by the Pallet
Putting together a complete solar energy system? Save money when you buy your Solar Panels by the pallet.  Contact us if you need help designing your system - we provide free technical support with every order!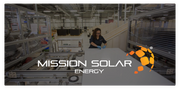 Featured Solar Panels: Mission Solar
Assembled in San Antonio, Texas, USA.
Built tougher than industry standards
Sleek all-black design and compact size
World-class performance and guaranteed long-term reliability
High Power Output
Solar Calculator
How much do solar panels cost? Use our easy solar panel calculator to get a quick estimate of how many solar panels you'll need for your home.
Size My Solar System
Free Solar Roof Layout
Our engineers use state-of-the-art software to conduct a PV analysis and draft a free layout of solar on your roof, included with our complimentary quote.
Get My Free Layout
Get Started
With Solar
We'll help you figure out your solar needs!
Fill out the form for a complimentary solar panel quote that includes a custom solar panel layout using satellite technology and a breakdown of solar energy production, federal tax credit and energy offset.