How much does it cost to go solar?
How much does it cost to go solar? It seems like a simple question, but there are several factors that complicate the answer:
How much energy do you use?
Do you need a battery bank for energy storage?
What system components will you choose?
Will you hire an installer or DIY?
Are you eligible for the federal solar tax credit?
While there's no one-size-fits-all answer, this article will provide benchmark data on the cost of solar to help aid your research process. It is designed to help people plan their budget and ballpark the cost of going solar, but it should not be taken as a substitute for a customized quote.
Disclaimer: This article was published on 11/22/21. Pricing is subject to change at any time. Please contact us for an exact quote for your project.
What Factors Influence the Cost of Solar?
Most people reading this article are exploring how much it would cost to add solar panels to their home or business. Here are the main factors that will influence the cost of your solar project. For a breakdown on how these factors influence system sizing, read our guide on how to size a solar system.
Energy Usage
Your solar system is sized to offset your monthly energy usage in kWh (kilowatt-hours), so naturally, this has the most direct impact on the cost of your system. Limiting your energy consumption can reduce the amount of solar panels you need to power your home. You can find your monthly kWh usage reported on your electric bill.
Local Climate
Your system's output will change based on the availability of sunlight. Sunny states like California receive more sun hours, which means you need fewer panels to hit your target output. The net impact is lower system costs in areas with more sunlight.
This also applies during the winter, when poor weather conditions prevent sunlight from hitting your panels. If you are exposed to harsh winters, you may need more panels to produce more during the summer, then "bank" those credits with the utility for the winter months.
Energy Storage
Adding a battery bank is optional for grid-tie systems, since they can make use of the utility grid to store the excess energy they generate. However, if you want to protect against outages, or go completely off the grid, batteries are required for local energy storage.
Batteries are the most expensive part of any solar system. A battery bank alone can account for 40%+ of your total system costs. If you are conscious about your project budget and can live through the occasional outage, a grid-tie system goes a long way to keep the costs of solar down.
If you are prone to frequent outages, or plan to go completely off the grid, be prepared to make a 4-5 figure investment in your battery bank alone (plus the cost of solar panels and other materials).
System Components
As with any industry, not all components are created equal. One of the main considerations is inverter type. String inverters are less expensive, but they are only effective if your system is in full sunlight. Meanwhile, microinverters or PV optimizers cost more, but they can boost your system's production.
American-made panels tend to be higher quality, but more expensive than imported panels.
Installation
Did you know that you can install your own solar panels? Over 2-3 weekends, a team of 2+ people can install one of our solar panel kits, potentially saving thousands in labor costs. Local installers charge around $1/watt, so for a 7 kW (7,000-watt) system, you could expect to pay around $7,000 for installation.
Credits & Incentives
Several tax credits, rebates and incentive programs are available to encourage the adoption of solar in America. There are national, state, and regional programs, so be sure to explore all your options!
The most popular program is the federal solar tax credit. If you qualify, you can claim 26% of the costs of your solar project as a credit on your tax return, offsetting any taxes you may owe. For example, if your solar system costs $10,000, then you'll receive a credit that cancels out $2,600 in tax liability.
Ballpark Costs: Grid-Tie Solar Kits
Grid-tie solar is the most cost-effective option for homeowners looking to save money on electric bills. By connecting your solar power system to the grid, you don't have to buy a battery bank to store energy locally.
String inverter systems cost less up front, but only work in full sunlight. Microinverters have the highest initial cost, but best value over the life of the system thanks to their 25-year warranty. Click the green buttons to view more details about these kits in our shop.
Prices do not include tax, shipping, permitting/interconnection fees, or small parts (wire, conduit, etc.)
| | | | |
| --- | --- | --- | --- |
| Kit Size | Inverter Type | Base Kit Price (as of 11/23/21) | Cost Per Watt |
| | | | |
| | | | |
| | | | |
| | | | |
| | | | |
| | | | |
| | | | |
| | | | |
| | | | |
| | | | |
| | | | |
Ballpark costs: Grid-tie + Backup Power
Adding backup power to your kit increases the cost of going solar, but provides invaluable protection against outages. Backup power systems are recommended in areas with a harsh climate or an unreliable power grid. When the power goes out, the backup battery bank kicks in to keep key appliances online.
These systems can be sized for full or partial home backup, with costs scaling appropriately. If you'd like to save money on your backup power system, consider choosing a smaller battery bank to only run the appliances you really need during an outage.
Note that battery chemistry dramatically changes the cost of these systems. Lithium batteries are about 3x the cost of lead-acid batteries, but they also have about 3x the lifespan, so it balances out over the system's lifespan. Lithium batteries also have the advantage of being maintenance-free. Keep these distinctions in mind when comparing the cost of backup power kits.
Prices do not include tax, shipping, permitting/interconnection fees, or small parts (wire, conduit, etc.)
| | | | |
| --- | --- | --- | --- |
| Kit Size | Inverter Type | Battery Bank | Base Kit Price (as of 11/23/21) |
| | | | |
| | | | |
| | | | |
| | | | |
| | | | |
Ballpark costs: Off-Grid Solar
Off-grid solar kits are designed for properties with no access to the grid. They are designed to be fully self-sufficient, which means on-site storage for 100% of the energy you generate. Naturally, this makes the cost of off-grid solar higher than the other two options, as your battery bank will need to be sized to power your entire home throughout the year.
| | | | |
| --- | --- | --- | --- |
| Kit Size | Inverter Type | Battery Bank | Base Kit Price (as of 11/23/21) |
| | | | |
| | | | |
| | | | |
Ballpark costs: National Solar Installers
The above figures assume you source your own solar kit and install it yourself (or hire a local solar installer). Either of these approaches can help you go solar for less than what a national solar installer would charge you.
According to a 2021 Q1 Industry report, national solar installation companies will charge more than $4/watt for a full-service solar installation. The reason they charge more is because there are more expenses required to run the business on a national scale (marketing, offices, workforce, insurance, etc).
This approach is convenient, but it comes at a significant markup. Homeowners looking to save money on their project can also source a DIY solar panel kit to install their own solar power system (or hire a local contractor at a reduced rate). DIY solar requires hands-on involvement, but it can save you thousands of dollars on your project if you invest the energy.
This table breaks down the cost of DIY vs. local and national installers for this sample 7 kW string inverter system.
GoGreenSolar kit + DIY Install
GoGreenSolar kit + Local Installer
National Solar Installer

Permit / Interconnection Service

$1,000 (estimate - freight costs

vary by location)

$1,000 (estimate - freight costs

vary by location)

Est. Project Cost (pre tax credit)

Est. Project Cost (post tax credit)
Historical Data: Cost Per Watt Over Time
Solar is an affordable alternative to utility power, but it hasn't always been that way. The cost of solar has fallen quickly over time thanks to rapid technological advancements in a relatively new industry. In the past decade or so, solar panels have surpassed utility power purely on a cost-per-watt basis.
That trend has flattened out more recently. One reason is that technological advancements have become more marginal as the industry has matured. Another is that the global supply chain is severely impacted by the COVID-19 pandemic, causing materials and shipping costs to rise across the board.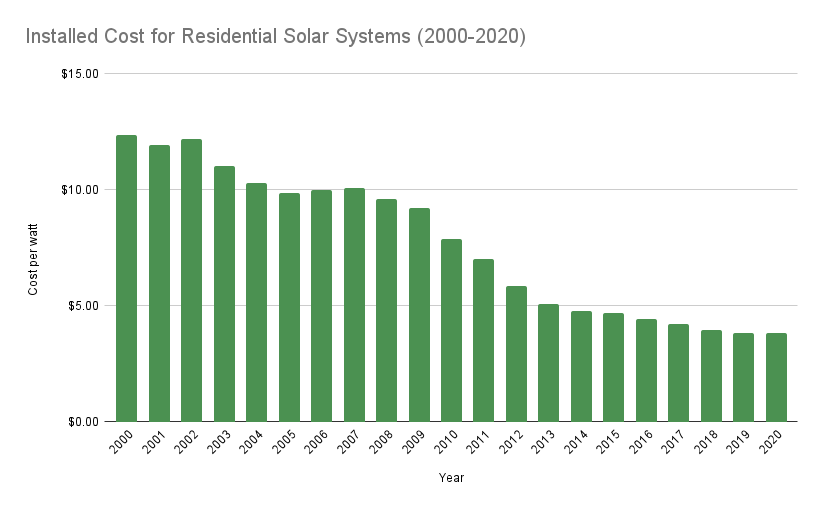 People sometimes ask us whether it's wise to wait for solar to get even cheaper in the future. While we don't claim to have a crystal ball, it's safe to say that the days of dramatic price drops in the solar industry are over. Right now, we're even seeing an uptick in costs given the recent supply chain challenges.
If you've been holding out for the to get the best deal on solar, we think your best bet is the window of time between now and the end of 2023, when the 26% federal solar tax credit begins to phase out.
Solar Resource Hub: Table of Contents
Cost of solar (this page)
Solar Calculator
How much do solar panels cost? Use our easy solar panel calculator to get a quick estimate of how many solar panels you'll need for your home.
Size My Solar System
Free Solar Roof Layout
Our engineers use state-of-the-art software to conduct a PV analysis and draft a free layout of solar on your roof, included with our complimentary quote.
Get My Free Layout
Get Started
With Solar
We'll help you figure out your solar needs!
Fill out the form for a complimentary solar panel quote that includes a custom solar panel layout using satellite technology and a breakdown of solar energy production, federal tax credit and energy offset.